Wall Climbing Car Laser Tracking
Agathe P and 266 others like this product
NEW TOY FOR THIS CHRISTMAS!🚗😍
Climb the walls with this super-fast air car. Point the controller's LED light at any smooth surface within a 1-foot radius of the vehicle and it will race up and down the walls following your every move! Made with our patented wall climber technology, this lightweight vehicle drives over floors, walls and even upside down on the ceiling. When you're done driving upside down chasing yourself or friends, just recharge over USB.
For the optimum playtime experience, our stunt car can not only drive on the ground but also on smooth walls and glass and even the ceiling. Moreover, the realistic lights and sound effects will bring on extra surprise and fun. It is truly a great gift for kids.
How does it work?
This novel remote control car with an aerodynamic design has "Wall/Floor" Dual Modes, it can climb steadily on the ground, smooth walls, mirrors, windows, and even on the ceiling.

360 degrees rotation moving forward & backward, turning left & right for a variety of playing experiences on this electric remote control stunt car.
Comes with intelligent auto-switch LED lights. Let the kids experience the feeling of driving a real car. USB charging wire provides great convenience for charging the RC car.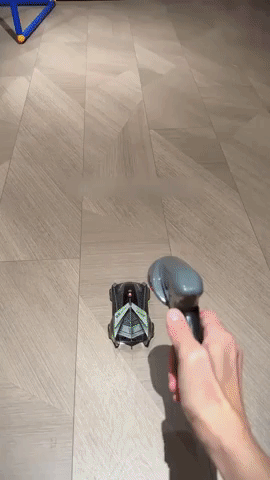 Enjoy fun & safe playing time!

Our RC stunt car is made from durable ABS materials with strong collision resistance in a shockproof and lightweight body, which ensures it won't break upon falling from the ceiling or wall, providing your kids with lasting and thrilling entertainment.
At Meliased we make sure our customers are covered under our 100% Satisfaction Guarantee Policy.
Return any item within 60 days hassle-free and have any item thaat comes damaged resent free of charge.
We always offer FREE 2-Day Shipping.