The best portable karaoke machine!
Agathe P and 266 others like this product
🎤 𝗧𝗢𝗨𝗖𝗛-𝗦𝗖𝗥𝗘𝗘𝗡 𝗧𝗔𝗕𝗟𝗘𝗧 - It's a magic sing-along for every fiesta on the best karaoke machine for adults and kids! Why get just a karaoke machine with screen or merely a karaoke machine with 2 microphones or only a karaoke machine with bluetooth? Get all of these plus a fully-functional, 32 GB bluetooth karaoke tablet! Auto installed apps (or your favorite downloads) provide the full video karaoke display experience.

🎤 𝗖𝗢𝗠𝗣𝗟𝗘𝗧𝗘 𝗞𝗔𝗥𝗔𝗢𝗞𝗘 𝗞𝗜𝗧- More than a pretty face, the X8 is a professional karaoke machine with all you need included. Your complete, professional karaoke equipment includes 2 premium, cordless microphones (2023 model!), AUX cable, charging cable, device remote, manual, and a 60-day warranty. A perfect birthday gift for boys & girls.

🎤 𝗕𝗥𝗜𝗡𝗚 𝗧𝗛𝗘 𝗕𝗘𝗔𝗧𝗦 - The best portable karaoke machine! This rolling speaker karaoke machine travels by wheels guided by the telescoping handle. A 3-hour rechargeable battery in this karaoke machine with screen means you can bop your battlecry anywhere.

🎤 𝗔𝗟𝗟 𝗧𝗛𝗘 𝗢𝗣𝗧𝗜𝗢𝗡𝗦 - Choose from 7 playback modes: Tablet, Bluetooth, USB, AUX-out, Micro-SD, HDMI, or Guitar. Plus, the powered 40-watt Bluetooth speaker with microphone doubles as a portable PA system with wireless mic (actually, two mics)! The 2 rechargeable, wireless microphones for kids and adults each have individual displays; adjust mike volume, echo, & EQ for perfect karaoke pitch control.

🎤 𝗠𝗨𝗦𝗜𝗖𝗔𝗟 𝗠𝗔𝗚𝗜𝗖 -Time for some magic mic karaoke. Change your voice with 'Magic Mode.' Choose from "Man," Woman," "Electric," "Shout," and many more... This portable sound system on wheels also lets you balance audio like a karaoke professional with both customizable and pre-programmed EQ settings such as Country, Jazz, or Pop.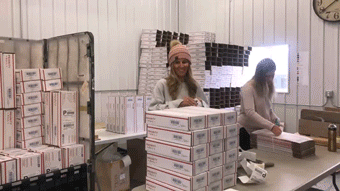 At Meliased we make sure our customers are covered under our 100% Satisfaction Guarantee Policy.
Return any item within 60 days hassle-free and have any item thaat comes damaged resent free of charge.
We always offer FREE 2-Day Shipping.