Storage Box for Household Clothes
Agathe P and 266 others like this product
KEEP YOUR HOME TIDY THANKS TO OUR STORAGE BOXES!😍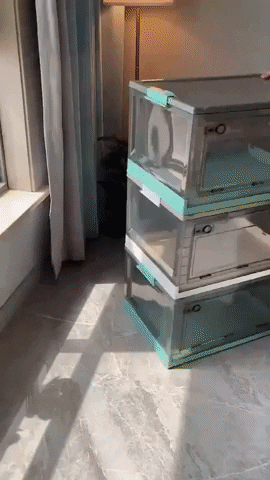 These boxes are strong enough not to be damaged. Completely protected from dust, moths, and moisture. You can store them for a long time without getting dust and moisture. They provide a complete storage solution for your closet/closet needs.

Can be combined and stacked at will. These boxes are designed with snaps on the top and bottom to allow multiple boxes to be stacked as required.

The bottom of the box is installed with pulleys, even if the box is full of things, you can easily move it.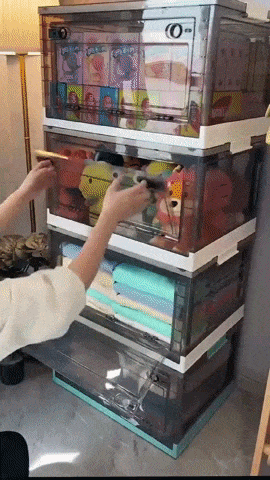 Easy to Use: The lid and the flaps on all four sides can be opened and closed independently to facilitate the removal or insertion of items. A sturdy stainless steel frame keeps the storage bag firm, erect, and in a standing position. Side handles to lift the living box. Completely foldable when not in use. Even the smallest of details have been kept in mind to make these storage boxes very easy for you to use.


Huge capacity: You can easily put winter clothes, quilts, and other items into it. The extra-large capacity is sufficient for more than one adult to sit in it.

Multiple Uses: Not just for clothes and toys. They can be stacked together and used as a nightstand or table. It's easy to hide in closets, under beds, side tables, or in corners, on top of closets, on the floor, under tables, under beds, and other places to keep your home looking clean and tidy. Perfect for those infrequently used items and reduces clutter in your home.


Easy to move and store ideas: Foldable storage box, save space, unfold when in use, put in storage items, convenient and fast, fold up when not in use, does not occupy indoor space.

HOW TO USE:
At Meliased we make sure our customers are covered under our 100% Satisfaction Guarantee Policy.
Return any item within 60 days hassle-free and have any item thaat comes damaged resent free of charge.
We always offer FREE 2-Day Shipping.