Smart Posture Corrector Device
Agathe P and 266 others like this product
CORRECT YOUR AND YOUR KIDS POSTURE!😱💪
Tired of the pain and tension in your neck? We have the solution for you. Introducing the Smart Posture Corrector Device, this is one of a kind, a portable and handy item that provides instant relief from pain and fatigue. The device uses Ultrasonic waves to stimulate muscles and promote healing, reducing inflammation and swelling, as well as improving blood circulation to help with overall health benefits. By reducing stress and muscle tightness, it also helps reduce headaches, alleviating tension in your neck.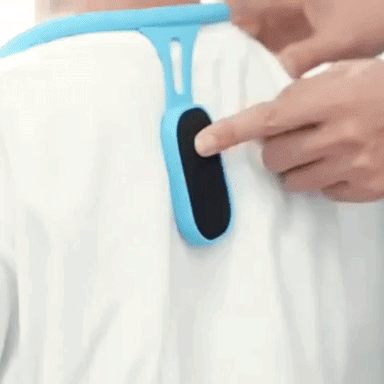 Help blood flows to organs and tissues throughout the body. Through waves which the Instrument emits it helps dissolve blockages (stenosis) and abnormalities like plaque or emboli.

Ultrasonic is believed to boost our Lymphatic system and how effective our Lymphatic drainage can be. It can assist in the detoxification process of our bodies by allowing the lymphatic system to drain fluids much faster and easier that may be carrying cellular by-products and other wastes.
Ultrasonic waves have the ability to enter the region of fat deposition through the skin and kill specific fat cells. Under the influence of ultrasonic vibrations, the fat cells are broken down and liquefied. Continuous all-weather sonic impact that promotes fat reduction during sleep.

Uses low-frequency sound waves at a frequency of 3 to 60 Hz to operate while totally protecting blood vessels, neurons, lymphatic vessels, fibrous tissue, etc.
Instant Relaxation - Provides a pleasant relaxation after a hard day at work
Better Blood Circulation - Sends Ultrasonic through your neck to stimulate the muscles for improved blood circulation eliminating the swelling.
Non-invasive Pain Relief - Relieves tension, pain, and long-term exhaustion through the neck by Ultrasound.
Overall Health Benefit - Improves metabolism to help in weight loss, stimulates sweat secretion, reduces fatigue, aids sleep, and improves posture.
Portable and Handy - This is compact and handy and can be carried anywhere to provide instant relief.
Boosts Lymphatic Detoxification - Combats the build-up of obstructions in your lymphatic system
Burns Away Fat and Sheds Excess Weight - It has fat burning effect to reduce fat which in turn reduces the appearance of excess weight for softer, smoother, and firmer skin.
Specifications:

Material: food-grade silicone + imported ABS
Colour: Black
Size: 18.5*14.5*14.5*2CM
Weight: 90g
Packing size: 18*14*14*3CM
Rated input voltage: 5V/1A
Battery life: about 1 week (with 4 hours per day)
Rated power: 0.4W
Battery capacity: 200mAh/3.7V
At Meliased we make sure our customers are covered under our 100% Satisfaction Guarantee Policy.
Return any item within 60 days hassle-free and have any item thaat comes damaged resent free of charge.
We always offer FREE 2-Day Shipping.