Neck Stretcher
Agathe P and 266 others like this product
Poor posture, working at a desk for too long, sleeping with your neck in a bad position...
WE HAVE THE SOLUTION!
This neck stretcher literally stretches your neck, using certified cervical traction to effectively eliminate neck tensions, pain, discomfort, stress & migraines.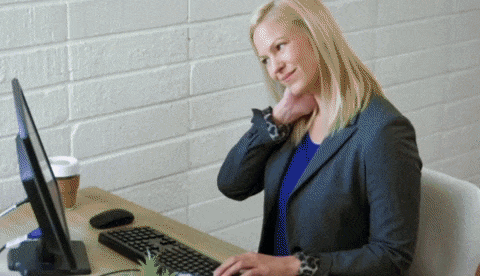 Neck and Head Hammock is a cervical traction device that pulls the head away from the neck. This neck and head hammock lightly stretches and decompresses the spinal cord, increasing the blood flow and improving mobility in your neck and shoulder area.

Does your daily routine include prolonged standing, sitting, or any other body positions that are uncomfortable? Use it on business trips, long flights, long workdays, and more.

 Easy to use: just wrap straps around door handles, pole, railing, or any other secure suspension point. Using this for a minimum of 10-15 minutes daily can reduce stiffness and relieve persistent head and neck pain.
 Comes with 2 adjustable straps with different lengths: Short strap (40cm x 2.5cm) and Long strap (130cm x 2.5cm). Hammock and straps can support weights up to 60kgs.
 The head hammock is made from a combination of velvet fabric and breathable mesh, with a length of 53cm.
 Bonuses included: Eye mask/eye patch for comfort, a PVC door hanger (18cm x 18cm) with front and back colored print for security, and a black carry bag for portability. This package is designed for comfort, safety, portability, and security. Lifetime 100% Satisfaction Warranty included.


At Meliased we make sure our customers are covered under our 100% Satisfaction Guarantee Policy.
Return any item within 60 days hassle-free and have any item thaat comes damaged resent free of charge.
We always offer FREE 2-Day Shipping.