Neck Massager
Agathe P and 266 others like this product
 EASILY RELIEVE NECK PAIN AND STIFFNESS
Get a deep tissue pulse-like massage that relieves neck tension, stiffness, and pain. This neck massager 4 point panel design feels incredible on your neck without any irritation - Better than a real human massage!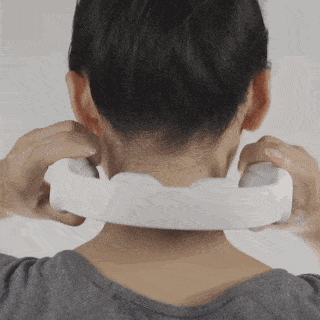 YOUR OWN MASSAGE THERAPIST

Use a neck massager at work, at home, at a park to get that relaxing therapy and remove any soreness and stress in just 10 minutes.

Lightweight to carry around and the flexible design is a perfect fit for any size neck.
 IMPROVE BLOOD CIRCULATION
Working long shifts, sitting at a desk, or frequently using a smartphone causes neck pain, stiffness, headaches. Prolonged stiffness can cause muscle spasms, shortness of breath, migraines, and long-term health issues.

Use this neck massager for just 10 minutes and get the incredible feeling of relief. It will completely remove pain and stiffness and increase blood circulation.
 ERGONOMIC 360° DESIGN
With our advanced design, the stainless steel panels fit perfectly any neck and size. No extra pressure on your neck
 PORTABLE AND LIGHTWEIGHT
Weighing at only 160g, this massager is the ultimate massager to carry and experience the amazing relief - anytime, anywhere.
Easily controlled with a remote to select any of the 3 massage and 15 intensity modes to your liking.
 UNIVERSAL FIT & EASY TO USE
Depending on the massage mode selected, this massager will move, pulse, vibrate, and rotate in all directions.
Package details:

1 X remote neck massager
1 X USB charger cable
1 X remote controller
1 X English user manual
At Meliased we make sure our customers are covered under our 100% Satisfaction Guarantee Policy.
Return any item within 60 days hassle-free and have any item thaat comes damaged resent free of charge.
We always offer FREE 2-Day Shipping.