Infinite Dodecahedron Color Art Light
Agathe P and 266 others like this product
✨Infinite Dodecahedron uses the unique properties of light to give the viewer the feeling of staring into an endless abyss of geometry and color.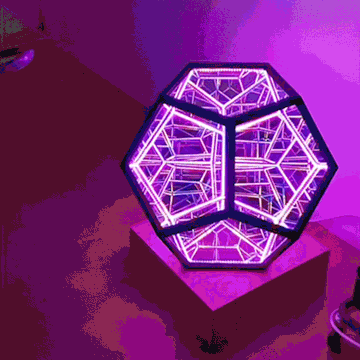 Geometry: Dodecahedron
Exterior Frame: Anodized Aluminum
Dimensions:20*20*20 Centimeters
Total height:40cm
Mirrors: Bespoke 2-Way Glass
✨Housed in a 12-sided frame, it features an anodized aluminum exterior, bespoke 2-way glass mirrors, and custom-printed circuit boards at maximum density for a total of 960 LEDs, displaying dozens of custom-written lighting modes and animations.
 🤩Infinite Dodecahedron Color Art Light is fully controllable via the included wireless controller and lighting is updated in real-time, with future updates expanding the capabilities of your device with additional lighting modes and integrations. 
At Meliased we make sure our customers are covered under our 100% Satisfaction Guarantee Policy.
Return any item within 60 days hassle-free and have any item thaat comes damaged resent free of charge.
We always offer FREE 2-Day Shipping.