Floor Lamp Corner LED
Agathe P and 266 others like this product
NEW FLOOR LAMP TO CREATE A SPACIOUS CORNER.
Corners are part of every room, most of them are empty. The beautifully designed corner lamp discreetly saves space and fits perfectly into corners. A real mood lamp, creates the ideal ambiance.

This color-changing LED floor lamp not only combines over 16 million colors and over 300 multi-color effects but also produces approximately 25,000 hours of illumination.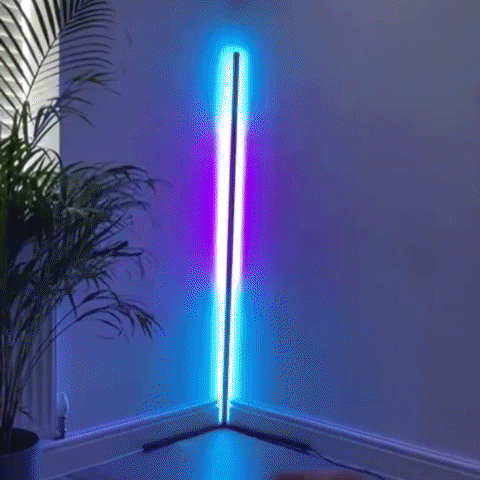 The rugged aluminum construction is built to last and the color finish is designed to complement your home or office decor.
The advanced technology of this stunning floor lamp allows you to control the color, darkness, and mood-setting remotely. Memory functions give you the opportunity to illuminate any room before you even walk in so the mood is set and the lighting gives you exactly what you need.
  SPECIFICATIONS:
Material: Aluminum
Height: 140cm / 55"
Leg length: 40cm / 16"
Light: 20W LED light
Dimmable
Lamp life: 25,000+ hours
Input Voltage: 100-240V / 20W / 50Hz
Power cord length: 250cm / 98" + Mounting needed-very easy
Mounting required-very easy
Universal international adapter included-suitable for worldwide use.
At Meliased we make sure our customers are covered under our 100% Satisfaction Guarantee Policy.
Return any item within 60 days hassle-free and have any item thaat comes damaged resent free of charge.
We always offer FREE 2-Day Shipping.