Float Magic Flower Pot
Agathe P and 266 others like this product
Set Your Plants Free
Designed in Sweden by our talented team, in line with Nordic elegance and minimalism. Our Plants consist of a planter that hovers over an oak base via magnetic levitation, gently rotating during the suspension.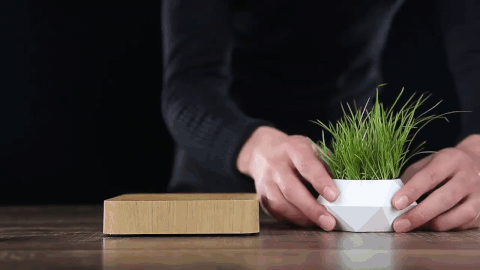 The magnetic field of the earth has powerful effects on all life forms, especially plants. We've been investigating the effects of magnetism on plants using maglev technology across all of our levitating plants.
Studies have shown that plants surrounded by a magnetic field tend to grow faster, taller, bigger, and healthier, as measured by plant height, leaf size, and selected parameters related to their health status.
Air Plants
Identified by the Swedish botanist Carl Linnaeus, air plants (Tillandsia) are plants that grow in the air. Air plants thrive upon the circulation of airborne particles; with no soil required, our gravity-defying and rotating microclimate naturally nurtures.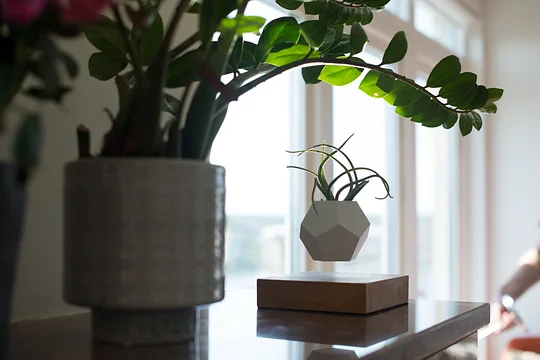 In Sweden, where winters are long and dark, we have crafted a product that maximizes light and life, proud to be the centerpiece of a well-designed home. The geodesic form reflects several different shades of light as it gracefully rotates, creating a mesmerizing effect.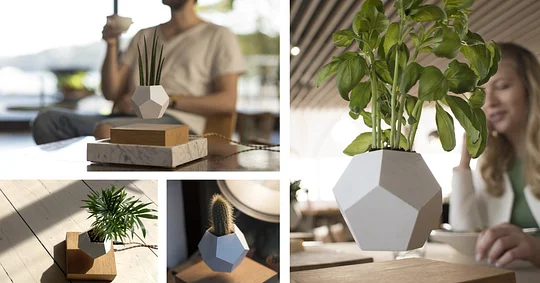 1. Planter
Our 12-sided geodesic planter is molded from silicon, making it grippy and tactile. As it rotates in mid-air, different shades appear, providing a hypnotic and relaxing experience for your home or office. Watch your plant twirl in the air, and experience it from different angles.
2. Reservoir 
To mitigate against over-watering, a cleverly designed drainage system allows water to escape to a hidden inner reservoir.

3. Magnet 
This is where the magic happens. Our custom-shaped magnet pushes up against an electromagnetic base, causing the planter to levitate in mid-air, lifting your life to new dimensions.

4. Rotation
There is no mechanism controlling the spin, which leaves the planter to spin in whichever direction it chooses. Because there is no friction, besides air friction, the units tend to rotate freely. Rotation can be induced depending on what plant you have inside.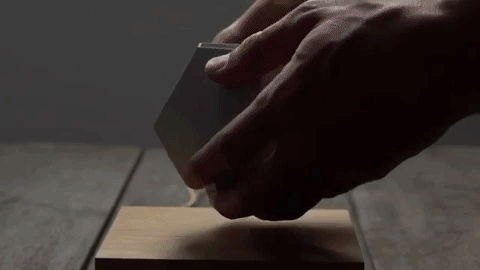 Levitating Plants Benefits
Sun exposure
Air plants get sun exposure from all directions
Grows from the air
No soil needed for the growing process of air plants
No batteries needed
Just choose the plug type for your country and you are good to go 365 days a year
WOW-factor
In the office or at home: everybody will be astonished by this mind-blowing Floating Plant Pot. 
Dimensions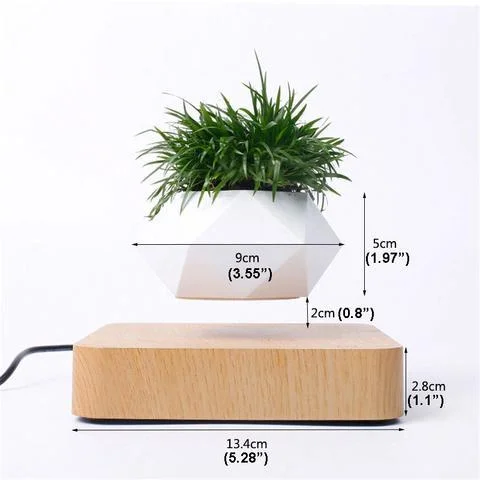 Base Dimensions:
153mm x 153mm x 38mm ( 6 inches x 6 inches x 1.5 inches )
Base Weight :
1.300 grams ( 45.8 ounces )
Pot Dimensions:
 80 x 100 mm
Pot Weight:
 240 grams ( 8.5 ounces )
AC Adapter:
Input 100-240V - 50/60Hz; Output 15V 1A
At Meliased we make sure our customers are covered under our 100% Satisfaction Guarantee Policy.
Return any item within 60 days hassle-free and have any item thaat comes damaged resent free of charge.
We always offer FREE 2-Day Shipping.