Educational Magnet Building Blocks Toy Set
Agathe P and 266 others like this product
Limitless Possibilities For Countless Of Models 
Educational Magnet Building Sticks & Balls Kit gives your children the experience they deserve.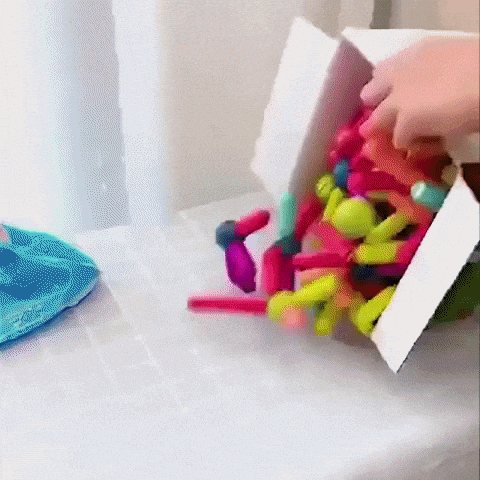 With 25/36/42/64/72 pieces in a variety of shapes, your child can choose between curved & straight shapes in different lengths, develop their creativity and plan intricate designs with our dazzling PASTEL COLORS, that ignite the imagination and give an artistic touch to every model, turning every day to a party with the balloon-like style of the magnets.
STEAM EDUCATION – Develops Creativity & Confidence 
Learning through play has never been more engaging! Easily assemble 24 models in our step-by-step Instructions. 
The 24 models are just the beginning – let your kids' imagination run wild and create their own one-of-a-kind designs. Dream a model, Design it & create it. It's fun & easy to assemble the models with the super-sensitive, high-quality magnets – Feel the joy of seeing your kid successfully assemble a model.
Enjoy Family Quality Time & Learn Together 
With Sticks and Balls Magnets Set, your children and you can bond for hours and experience together with the joy of turning your imagination into reality. 
The best game for developing kids patience, precision, and problem-solving skills, while nurturing an artistic perception and conceptual understanding of form and function. The intricate PATTERNS OF DOTS & WHIRLS on the magnets enrich the playing experience and spark the imagination
Astounding Pastel colors, shapes & models that mesmerize and everyone loves. Plus, you get a LARGE STORAGE BOX helping you organize the pieces together & making your life much simpler. With children-friendly round edges, your children.
At Meliased we make sure our customers are covered under our 100% Satisfaction Guarantee Policy.
Return any item within 60 days hassle-free and have any item thaat comes damaged resent free of charge.
We always offer FREE 2-Day Shipping.