Easy Can Opener
Agathe P and 266 others like this product
TIRED OF HARD CAN OPENINGS?

That's why you need Easy Can Opener
Stop breaking fingernails on the pop can tops! Make finger pain a thing of the past!

No more bees or dust in your drinks!

Small and portable to carry wherever you go!

Improve your Picnic and BBQ Experience!
MAIN FEATURES: 
MAKE FINGER PAIN A THING OF THE PAST
No more sore fingers or broken fingernails. Save your fingernails by the cans opener, quickly and easily pop your drink tops.

NO MORE BEES OR DUST IN YOUR DRINKS
The can opener also can be used as a beverage barricade to cover your drink and protect your drink from insects and dirt. Whenever you're ready to take a sip, just swivel the Beverage Barricade to the other side and enjoy your insect-free drink!

FIT BEVERAGE CANS OF ALL SIZES
This will fit any standard aluminum cans of 6oz, 8oz, 12oz, or 16oz. Perfect for picnics, backyard barbecues, camping, cookouts, or family/ friends gathering. Small and portable to carry

DISHWASHER SAFE
The can openers can be reused and safe to the dishwasher. Made of tough plastic material, they can last for a long time.

EASY TO USE
It's extremely intuitive to use, even children can quickly get it. Just slip it onto the tab until it locks, lifts up to open the can, then swivel it to cover the mouth opening. The whole thing takes less than 2 seconds!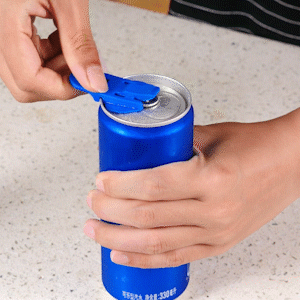 SPECIFICATIONS: 
Material: ABS

Weight: 5G

Size: 8* 3* 1CM

Color: Purple, Blue, Green, Yellow, Orange

Packet: 1* Easy Can Opener
At Meliased we make sure our customers are covered under our 100% Satisfaction Guarantee Policy.
Return any item within 60 days hassle-free and have any item thaat comes damaged resent free of charge.
We always offer FREE 2-Day Shipping.