Dancing Cactus Toy
Agathe P and 266 others like this product
HILARIOUS SINGING, DANCING CACTUS TOY!
This cute dancing plant waves its hands to you, inviting you to join in as it dances and sings😍
✨Creative design dancing toy
 Knitted plush made, soft material, comfortable, safe. Wipe off the dust with a damp cloth for cleanup.
✨Sound recording and playback
With the singing and humorous dancing, children's attention will be aroused and joy will be brought to them! Adults can also decompress
✨Eco-friendly, non-toxic material
Soft material, comfortable, safe, non-toxic. The plush is absolutely safe for children. The toy can dance, sing, move and rotate.
✨Bringing the Joy:
The singing cactus toy will beat with the rhythm dancing cactus plush in pot is also home and office decorations, creating a good office atmosphere for you. cactus plush toy is a great choice as a gift for your colleagues! The perfect accessory for home decoration, party, good for early childhood education.
✨Can hold 3 to 100 different songs.
It encourages babies to make and improve their movements – it's really hard for a child not to join the dancing looking at this funny cactus. It's fascinating – all the attention of the child will be captured by the toy plant. It can develop the imagination. The Dancing Cactus is a great way to improve fine motor skills. Children really like to touch the soft plush and knitting during the playing.

Specifications:
Size: Length: about 32 cm/12.60inch
Fabric: knitted fabric with a three-dimensional effect
Function: singing, dancing.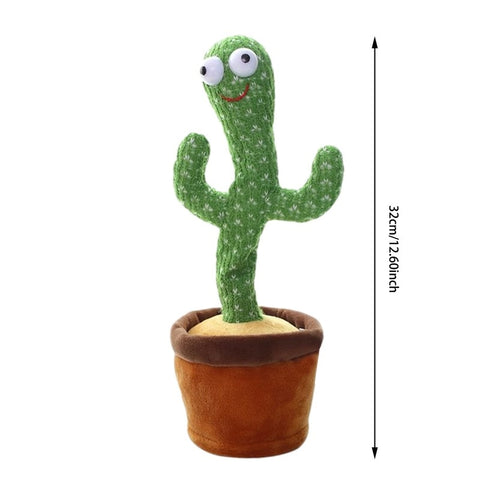 At Meliased we make sure our customers are covered under our 100% Satisfaction Guarantee Policy.
Return any item within 60 days hassle-free and have any item thaat comes damaged resent free of charge.
We always offer FREE 2-Day Shipping.