Christmas Laser Projector
Agathe P and 266 others like this product
Let Your Family Excited For Holidays! The Perfect Xmas Projector!
Using a projector, these DVDs let you project Xmas scenes both indoors and outdoors on any surface. You can even use their projection screen material to make these projections look like they are coming out of thin air. You can also use your TV or monitor, but using a projector is what makes these scenes so magical.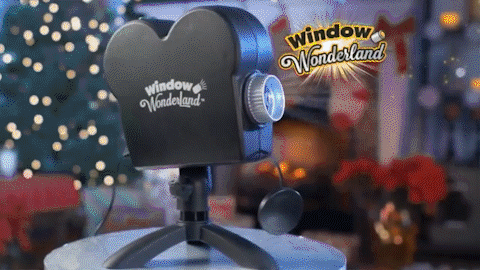 The CRHISTMAS PROJECTOR decorations are perfect for Xmas Parties, and Xmas season. There are many DVDs to choose from including Santa Claus, scenes that make your child be happy.
The holographic decorations also comes with extremely realistic audio that syncs up with the animations for an even realistic experience.  
Projects high-end optical projection screen videos to the included from within your home.
Display stunning holiday movies in your window!
It is the coolest and easiest way to decorate your home
With a tripod, easy to use and set up.
A built-in audio jack gives you the option to connect external speakers (not included) to include sound with your videos.
Window Full-color movie projector plays movies in your windows.
Perfect for Christmas and Halloween decorations.
PRODUCT DESCRIPTION:
Item Type: Deluxe Edition Projector
Material: Plastic
Color: Black
Quantity:1pc
Plug: EU/AU/USA/AU plug
Item Size: 22.5*21*6.5cm/8.8*8.3*2.6"(L*W*H)
Net Weight: 900g/31.8oz
Package Includes:
1 x Projector
1 x Tripod
1 x Charger
1 x Package Box
1 x Projection Screen
6 x Christmas Videos
At Meliased we make sure our customers are covered under our 100% Satisfaction Guarantee Policy.
Return any item within 60 days hassle-free and have any item thaat comes damaged resent free of charge.
We always offer FREE 2-Day Shipping.