Bubbly - Amazing Giant Bubble Ball
Agathe P and 266 others like this product
FUNNIEST BALLOON EVER! DISTRACT YOUR CHILDREN IN A SECOND
The Amazing Giant Bubble Ball is the funniest balloon ever! Your kids will play on this thing for hours! It's perfect for summer parties. You can even use Bubble Ball inside the house.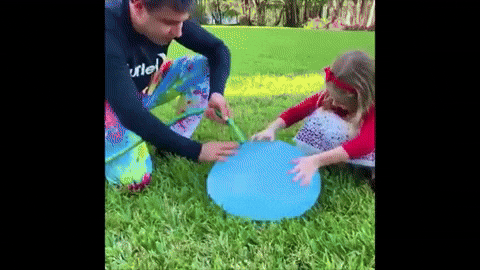 Your entire family will love playing with the Amazing Bubble Ball! It's super strong and is indestructible. You don't have to worry about it popping. Jump, pounce, and play for hours!
FEATURES

 Designed with the incredibly strong and durable material, Xpandium, you can count on the ball never tearing or popping
This ball is self-sealing so you don't have the hassle of trying to tie a balloon knot
 Can be easily filled and reused.
 Environmentally safe
 No BPA's, No PVC, No Latex
This toy is revolutionary! Feel free to kick, punch, and jump on it without fear of it breaking or tearing. The ball wobbles, rolls, floats, dribbles, spins, and more! Can easily be deflated when you're finished playing for easy storage.
PACKAGE INCLUDES:
1 × Amazing Giant Bubble Ball 
NOTE: You can fill it with water or with air!!
Buy NOW and get the last ones with a DISCOUNT!
At Meliased we make sure our customers are covered under our 100% Satisfaction Guarantee Policy.
Return any item within 60 days hassle-free and have any item thaat comes damaged resent free of charge.
We always offer FREE 2-Day Shipping.