【LAST DAY SALE】Cake Decor Piping Tips & Create Unique Cupcake Decorating 🔥
Agathe P and 266 others like this product
LAST DAY SALE: 50% OFF ENDS TODAY
Create Unique And Delicate Cupcake Design with Ease!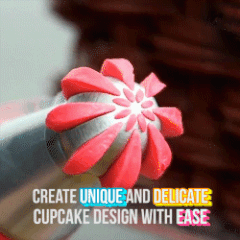 Whether you're an expert decorator or just starting to learn, this tip set should be a staple in your kitchen. This delicate piping set allows you to create enticingly elaborate designs on cupcakes that will leave everyone stupefied! With the coupler and piping bag included, this set makes your cake decoration experience much easier!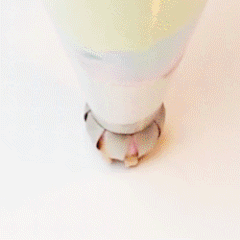 This icing tips set assured to plaster a smile on any baking lover's face, whether it's a birthday, housewarming, anniversary, or Mother's Day present you're looking for. Made of high-quality stainless steel, safe, and non-toxic. This toolset is also easy to clean, makes it suitable for both home and professional use.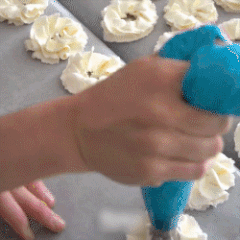 Highlights
Easy to use and handle – Just a little pressure on the pastry bag, it can create wonderful type cookies and beautiful pattern on the cake. A reusable plastic coupler helps to switch one tip to another one quickly.
Reusable and Hardwearing – Made from heavy-duty stainless steel that resists rust for continued performance year after year. All pieces are seamless.
Safe for kids to use – These piping nozzles feature no pointy tips and edges, so you can enjoy designing your cakes with your kids.
Baking-friendly – Great for beginners exploring designs and also professional bakers.
Stylish and Intricate – With its variety of creative nozzle, this pastry tips are ideal for any decorations for your customized cakes, cupcakes, cookies, and more.
Food grade quality – Safe and non-toxic, provides a perfect and polished finish.
Buttercream Frosting Recipe
½ cup unsalted butter, softened


1 ½ teaspoons vanilla extract


2 cups confectioners' sugar, sifted


2 tablespoons milk


3 drops food coloring, or as needed (Optional)
Step 1.

Cream room temperature butter with a hand mixer, the paddle attachment of a stand mixer, or a wooden spoon until smooth and fluffy. Gradually beat in confectioners' sugar until fully incorporated. Beat in vanilla extract.

Step 2.

Pour in milk and beat for an additional 3 to 4 minutes. Add food coloring, if using, and beat for thirty seconds until smooth or until desired color is reached.
Specifications
Style: Russian Ball Nozzle / Floral Nozzle
Color: Silvery
Material: Food grade stainless steel 430/201 Stainless Steel
Size:
Package includes
-Cake Decor Piping Tips x 8pcs
-Adapter x 1 + Pastry Disposable Bag x 10
-Coupler x 2
-Cleaning Brush x 1

-Cake Decor Piping Tips x 7pcs
-Coupler x 1
100% SATISFACTION GUARANTEE
Over 1081+ satisfied customers purchased before you and we were able to provide them the Cake Decor Piping Tips.
We stand behind our product 100%. That's why we offer a ''money back guarantee''
We offer customers the opportunity to return the product 14 days after receipt
We place great emphasis on impeccable customer service, available 24/7 for questions and/or complaints
We offer free worldwide shipping today [before 23:59]
GUARANTEED SECURE PAYMENT
We use the most widely used payment providers in the world.

You can pay with:


Credit card [Mastercard, Visa, Maestro, American Express)

PayPal

Apple Pay

Google Pay

Shop Pay
ATTENTION: The Cake Decor Piping Tips are only available online!

ATTENTION: To get your hands on the Cake Decor Piping Tips, click ''ADD TO CART''. If they are sold out, the prices will also increase to the original prices.
At Meliased we make sure our customers are covered under our 100% Satisfaction Guarantee Policy.
Return any item within 60 days hassle-free and have any item thaat comes damaged resent free of charge.
We always offer FREE 2-Day Shipping.