360° Kids U-Shaped Toothbrush
Agathe P and 266 others like this product
YOUR KID'S TEETH WILL BE CLEAN IN A SECOND! 
Dentist-recommended, unique brush head cleans all sides of the tooth all at once while developing good brushing habits and reducing the occurrence of tooth decay. Soft, rounded bristles are gentle on your little one's teeth and gums.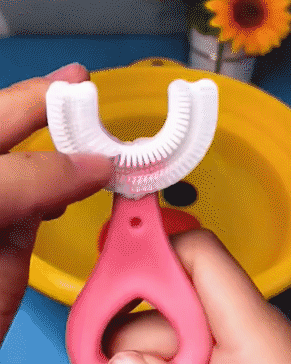 For kids' safe and comfortable brushing experience, it applied food-grade silicone and appropriate soft materials. Easy-to-grip handles to provide comfort and control while brushing. The cute and interesting appearance of the toothbrush makes children more interested in brushing their teeth. 
The brush can brush and clean the teeth in 360 degrees, specially designed for children's tender and sensitive teeth; It can clean and massage the oral cavity, especially suitable for children's growth and sensitive teeth; The cleaning effect is better when applied with foaming toothpaste. Say goodbye and end the fight with traditional toothbrushes.
Features:
CREATIVE U-SHAPED DESIGN: Ergonomic U-shaped brush head, suitable for the shape and mechanics of children's teeth structure. uniquely designed for children's tender gums and sensitive teeth.
PACIFIER GRADE SILICONE MATERIALS: Soft pacifier grade silicone, soft brim around the teeth 360 degrees, providing a comfortable feeling of brushing, the original cleaning path, effective deep cleaning, will not harm the gums, protect children's enamel.
LOVELY CARTOON DESIGN: The cute and interesting appearance of the toothbrush makes children more interested in brushing their teeth. This helps your kids be willing to brush their teeth longer even develop healthy brushing habits.
COMFORT & SAFETY: Easy grip handles provide comfort and control, Two cute colors to increase your child's interest in brushing. Safe, fast, and convenient, easy to use at home or travel.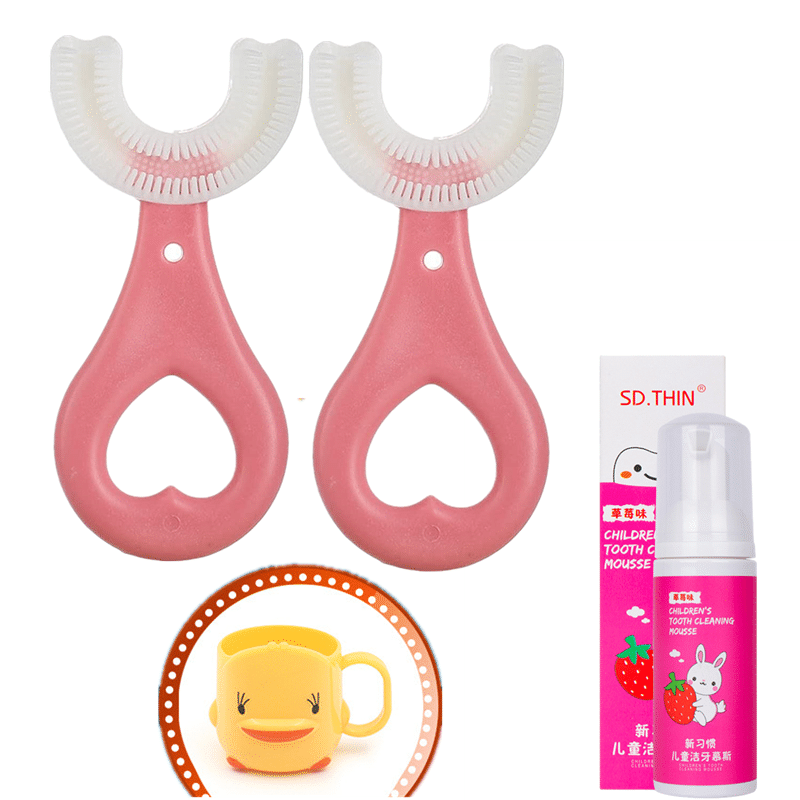 Tips:
1. Squeeze foam toothpaste on both sides of the brush head
2. Put it in your mouth, Shake the toothbrush left and right to clean the teeth
3. After brushing your teeth, rinse with water


 Suggestion:
1. Change your toothbrush every 3 months
2. This product is designed for 1-12 years old kids. 
 Package includes:
1x360° Kids U-Shaped Toothbrush
At Meliased we make sure our customers are covered under our 100% Satisfaction Guarantee Policy.
Return any item within 60 days hassle-free and have any item thaat comes damaged resent free of charge.
We always offer FREE 2-Day Shipping.