12 Color HANDAIYAN Rotating Sharpenable Matte Lipstick Pencils
Agathe P and 266 others like this product
HANDAIYAN lipstick gives your lips a bolder look. New nude volume lipstick helps add volume to the lips naturally and offers sheer colors.
Creates a bold and sensual voluptuous look for the lips while enhancing their natural beauty.
WATERPROOF & LONG LASTING - is naturally waterproof and lasts up to 6-8 hours without leaving marks on clothes, cups or lips. Moisturizes lips while maintaining vibrant color for up to 6 hours without drying.
Moisturizing & Plumping Lips - Made with Water-Drop Core technology, it contains Menthol which helps fade lip lines and keep lips moisturized combining various plumping ingredients to make lips plump and sexy. Protects your clothes and won't come off your lips easily!
2-in-1 function - both a lip liner and a lipstick, depicting the lip shape while applying color, satisfying all needs. A small design has been added to the bottom, placing the pencil tip on top and gently rotating it to restore the most original tip shape, making it even easier to use!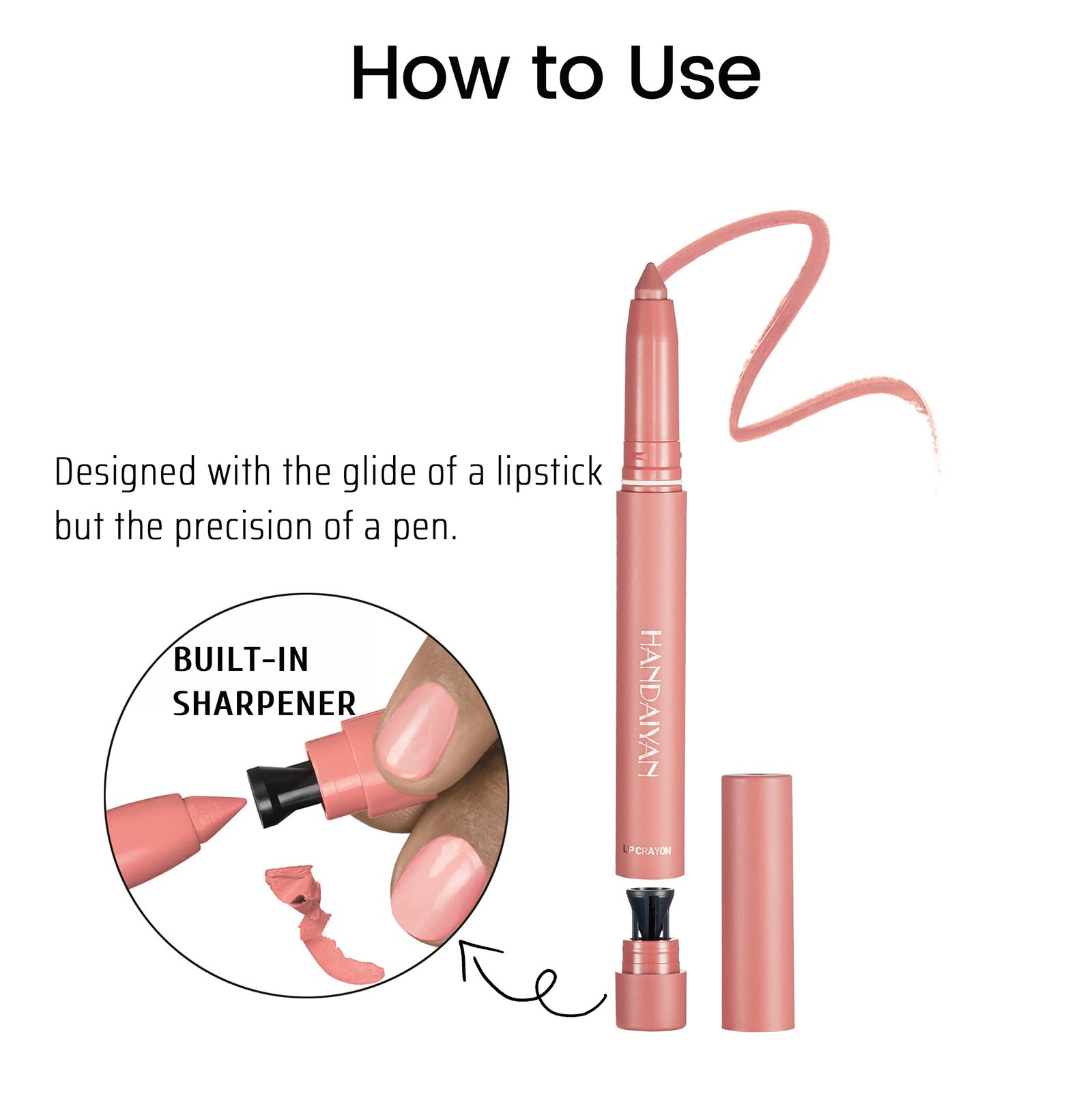 Easy to apply & Easy to remove - Easily create instant bold matte lips that last! It comes off easily with makeup remover, no need to worry about pigmentation.
Cruelty Free Cosmetics-We believe animals belong in our arms, not in a lab; All of our makeup is certified and acknowledged by PETA as a cruelty free brand; We don't test any of our products on animals
NATURAL AND SAFE INGREDIENTS
Specifications
Color: 01#, 02#, 03#, 04#, 05#, 06#, 07#, 08#, 09#, 10#, 11#, 12#
Shelf Life: 3 Years
Size:1.1x11.2cm
Weight:11g
Package Included: 1x Matte Lipstick Pen
12 colors for you to choose from, silky and exquisite, suitable for all skin tones, providing you with the most elegant and chic lip makeup, especially in the office, dating, shopping, vacation, summer party, and daily makeup.
At Meliased we make sure our customers are covered under our 100% Satisfaction Guarantee Policy.
Return any item within 60 days hassle-free and have any item thaat comes damaged resent free of charge.
We always offer FREE 2-Day Shipping.